Comodo Advance Endpoint Protection / ITSM
Comodo Containment Fused with Critical Endpoint Technology secures all your Servers, Desktops, Laptops, Tablets and Mobile devices from known and unknown Ransomware – without requiring signatures or updates. And, it supports Android, iOS, Windows systems, regardless of the type or age of the endpoint hardware.
Whether it's lack of IT resources or the organizational strategy, many businesses find they need advanced protection made simple. Manage all the Devices from a Single Dashboard.
Ready To Protect Users in under 5 Minutes
Protect users on any device, anywhere with one step policy configuration
Combine endpoint protection, management, mobility, into a single, cloud-based solution
Stay ahead of threats with always-on security that is automatically updated
Block unknown threats with Default Deny Technology and proven Containment Technology protection techniques
Protect against ransomware and zero day attacks in real time with Comodo AEP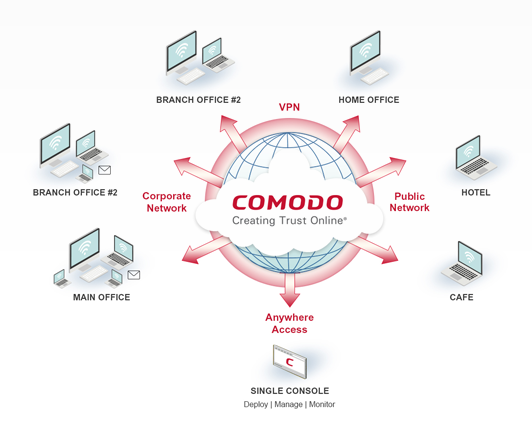 Comodo IT and Security Manager
Delivers a layered suite of protection that is lightweight and scalable. Users can run any application on their endpoint with confidence, having only known good applications running on your network outside of containment.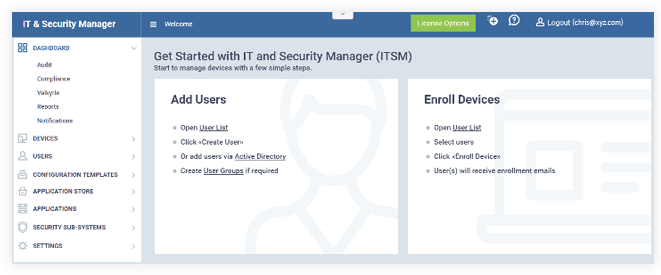 Endpoint Containment Firewall Web Filtering
Antivirus Host Intrusion Prevention (HIPS)
Behavioral Analysis (VirusScope) Valkyrie Cloud-based Static and Dynamic Analysis
Specialized Threat Analysis and Protection (STAP)
External Device Control
Secure Your Devices Without Breaking Your Budget
Security is essential, but cost is still a consideration. Now you can have market-leading security for a cost-effective amount.
Designed for Small Business & Enterprise Business budgets
Delivered as a cloud-based service that requires no additional infrastructure investments (for a low total cost of ownership)
Eliminates the need for IT specialization and dedicated resources
With Comodo Advance Endpoint Protection Securely manage all your endpoints
Antivirus Protection for Mixed Platform
Patch Management
Asset Management ( Software & Hardware Inventory )
Remote Monitoring & Management
Mobile Device Management
Valkyrie, An online file verdict system that tests unknown files with a range of static and behavioral checks in order to identify those that are malicious. Valkyrie has the option to forward files to Comodo Labs for in-depth, manual checks.