Best Free Antivirus Software
Award winning Antivirus solution with outstanding detection rate, destroys malicious virus threats efficiently.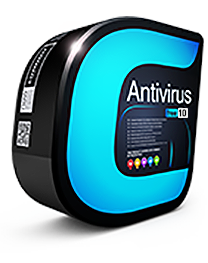 Is your Antivirus efficiently protecting you?
There are dozens of antivirus applications that provide different levels of security and sold at varying price range. Comodo Antivirus ranks at the top in reference to protection capabilities, but is uniquely offered free without limited features or time period. Our user friendly interface allows you to scan your computer, detect and remove malicious files, keep your drives clean and get in-depth analysis reports when required.
Comodo Antivirus has an exceptional level of functional intelligence, including the ability in detecting threats based on behaviour . Potential malicious activity or entry will be isolated in an 'Antivirus Jail' as soon as detected. This safeguards your PC while the file is verified and tested. On verification if it confirms, the file to be a threat, it will be deleted. Comodo Antivirus combines the best of cloud and offline virus definitions to identify whether a file belongs to the safe list or a possible threat based on user feedback as well as expert suggestions.
5 Reasons Why Comodo Antivirus Is the Best
Automatic updates to facilitate latest version for virus protection
Proactive "intelligent" protection intercepts unknown threats
Easy to use interface with no annoying pop-ups or false alarms
Defense + technology protects your PC, 24/7
Quarantines all suspicious files for a cleaner PC
System Requirements
Windows 10/ Windows 8/ Windows 7/ Windows Vista/ Windows XP SP2
152 MB RAM / 400 MB Hard Disk Space
Release Date: December 19, 2012.
Default Deny Protection™
Preventive feature to ensure that only authorized, safe applications are executed on your PC.
Prevention-based Security
Stops viruses, bugs, trojans and other malware before your PC gets infected, at the initial stages for better security.
Auto Sandbox Technology™
Creates a virtual sandbox desktop environment to test run unidentified programs and isolate possible threats while allowing uninterrupted operation.
Ultimate Virus Detection and Elimination, Highly Efficient
Comodo Antivirus free version offers complete security with highly efficient virus detection and elimination system, even beyond what paid security suites offer.
Quarantine System to Isolate Suspicious Files
Potential threats are identified, denied access to execute and quarantined for a safer environment.
Personalized Protection
Allows users to schedule scans, segregate files and similar activities at their convenient time.
Spyware Scanning
Spyware scanner scans, detects and cleans malicious spyware found in registry and storage disks.
Cloud Based Antivirus
Secure scans are run based on cloud virus updates allowing users to identify threats even if local virus definitions are not up-to-date.
Cloud Based Behaviour Analysis
A highly capable security feature is integrated into analysis system to instantly detect zero-day malware.
Cloud Based Whitelisting
Cloud based whitelist allows the application to easily identify sources from a trusted publisher and execute it, while moving unrecognized programs to the sandbox.
Game Mode
An easy to use mode designed for gamers to play their favourite games uninterrupted while virus updates, scheduled scans and alerts are deactivated temporarily.
Application Control
Permits individuals to choose to allow or deny file access and lockdown the PC to let only authorized programs run.
One-click Scanning
Completely easy to use interface, one-click solution for all your scanning and protection needs.
Easy and User-friendly Interface
Get the installation done and you are set! No more alerts or decision making. Easy interface for simple navigation and easy access of the most important features.
Real-time Access to Updated Virus Definitions
Quick. Reliable. Efficient. Real-time cloud virus definitions verification defends your PC even from the newest threats found on the web.
Unique 'Slider' For Security Level Navigation
Easy-to-use 'slider' permits an easier switching between different security levels.
Why should I install antivirus software on my PC?
If you connect to the Internet you will inevitably be exposed to viruses and other malware. They can slow your computer, damage your files and steal your personal information. The use of antivirus software, ensures you to efficiently keep your computer safe.
What makes Comodo Antivirus better than other Antivirus programs?
Comodo Antivirus Free Edition offers comprehensive and reliable protection with auto sandbox technology, quarantine facility, real time scanning, virus prevention and more to safeguard your PC.
How do I use the antivirus protection?
Easily! The interface is user friendly and to experience its benefits, you just have to use the one click button on the desktop icon. It will scan, detect and delete viruses for you.
How 'quarantine protection' works?
'Quarantine mode' is used to isolate any suspicious files or unidentified applications until they are proved legitimate. This safeguards the PC from getting infected and provides added layer of protection.
What does 'personalized protection' actually do?
This feature allows you to schedule scans, identify files or analyse alerts according to your personal preference. It allows uninterrupted computing and a more customized solution for individuals.
Are there any upgrades available?
Yes, there is. Comodo Internet Security Suite (including Antivirus) is a comprehensive protection program available in plus and Pro versions. By upgrading, you receive a $500 virus-free guarantee, Trust Connect encryption solution and 24/7 live technical support with remote desktop assistance.
Will every program work properly in Sandbox mode?
Auto Sandbox technology creates a virtual desktop environment similar to the existing system. Suspicious files, malicious applications and potential threats will be isolated and run in the sandbox mode with select privileges to keep the actual registry safe from infection. This allows you to continue using the computer without interruptions, creating a smooth and secure user experience.
Are programs stored in Sandbox forever?
No - Sandbox is a virtual desktop environment created to replicate a PC and test run suspicious as well as unauthorized files. Comodo Antivirus uses the Sandbox to test an application, gets it verified by backend technical experts and categorizes it based on the results. Legitimate and authorized applications will be moved to the whitelist while confirmed virus, trojans and more will join the blacklist. In either case, the file will move out of sandbox.
For further information and assistance, please check Comodo Antivirus user manual, visit our forums to join the discussion or send us an e-mail.
Download User Guide
Get detailed technical information about Comodo Antivirus Free. Download now.
Visit the Knowledge Base
A dedicated support forum allowing users to get answers for a variety of common questions.
Email Support
Get instant support through e-mail when you cannot get clarified by using the user guide or at the knowledge base. Connect with us desktopsupport@comodo.com for further assistance.
Submit Malware
Submit unidentified and suspicious malware to Comodo's AV labs for detailed analysis. Help update our database and provide increased level of protection.
Know About Latest Threats
Our AV labs publish a complete list of well-known, latest and updated virus definitions.
Report False Positives
Our AV labs publish a complete list of well-known, latest and updated virus definitions.
Trusted Vendors
Join the trusted vendors list by adding your software to Comodo's whitelist. Become a recognized developer. Phone support is not offered for free products.