FIREWALL PROTECTION
Comodo's award winning firewall protects you from virus, malware, spyware and malicious websites.
CNET Editor's Choice - Award Winning Firewall to find and protect your PC from threats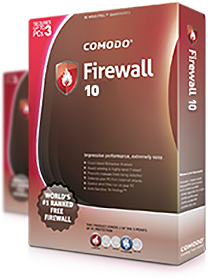 One step to gain peace of mind
Upgrade to our full security suite Internet Security Pro which includes Firewall, Antivirus, instant live support and more!
NET Editor's Choice ? 5-Star Rated
Comodo Firewall Pro brings a revolutionary change to internet security with Default Deny Protection (DDP?) technology. The security tool provides the very best protection against online threats like malware, spyware, trojans and hackers.
What is DDP?
Conventional security programs which determine if a file should be allowed access to the computer based on offline malware definitions. If the definition misses some entries or doesn't have updated malware list, virus and malicious codes will easily gain access to your PC.
DDP works in the cloud to get up-to-date definitions plus a list of files from trusted vendors. The firewall refers to a list of over 2 million PC-friendly applications before authorizing access to a request. Programs that cannot be verified as safe are run in a secure isolated area called the sandbox, providing perfect protection because you are even protected from threats that have not yet been identified
Unique Features of Comodo Firewall
Easy-to-use setup and configuration ? Perfect for new users
Quick user behaviour analysis allows personalized protection
Visually impressive, user-friendly graphical interface
Open configuration options allow pro users to tweak settings
DDP-based security for maximum protection and updated alerts
The most prominent step towards a secure online experience is using a quality firewall program. Comodo Firewall is free and has access to a safe list of PC-friendly applications, an integral component of Default Deny Protection™.
System Requirements
Windows 10/ Windows 8/ Windows 7/ Windows Vista/ Windows XP SP2
152 MB RAM, 400 MB Space
Release Date: December 19, 2012
Need time to consider a full upgrade? Get free firewall protection first!
Default Deny Protection™
Known PC-friendly applications are executed and malicious files are prevented access
Prevention-based Security
Prevents virus, trojans and malware from accessing your computer before any damage occurs
Auto Sandbox Technology™
Sandbox is a virtual operating environment where programs that have not been verified as safe can be executed. This protects you even against threats that have not been identified yet.
Personalized Alerts
Based on individual user preference, automatic behaviour analysis allows frequently accessed files and blocks unidentified programs with managed alerts.
Cloud-based Behaviour Analysis
Cloud-based behaviour analysis system identifies zero-day malware immediately.
Cloud-based Whitelisting
Cloud-based whitelisting of trusted programs detects PC-friendly files and trusted vendors.
Game Mode
Scheduled scans, alerts and virus warnings are suppressed in game mode to allow hassle free gaming experience.
Application Control
Application control allows users to completely lock down their PC and provide access to verified programs.
Precise and Specific Alert System
Categorized warnings specify the type and level of threat from each source.
Easy to Configure
Simple, quick and efficient. Comodo firewall will scan after installation and automatically add all existing programs to the safe list with a single click.
Detailed Summary Screen
Access current security settings easily with an at-a-glance snapshot.
Uncluttered, User-friendly Interface
Quick navigation made easy with simple, efficient and user-friendly interface
Thorough Security 'Wizards'
Point-and-click setup to access pre-set security level settings and make changes easily.
Exclusive Access to Comodo Safe-List
Get exclusive access to Comodo safe-list containing over 2 million known PC-friendly programs.
Training Mode
Comodo Firewall monitors your activities to create 'allow rules' and identifies trusted programs to minimize alerts in training mode.
How does a firewall work and why is it important?
Firewall protection is a data packet filtering tool which secures your PC by scanning incoming and outgoing communication to barricade malware entry.
How does Comodo firewall differ from dozens of firewall solutions provided by other vendors?
Comodo Firewall is the only program which has Default Deny Protection? technology to provide maximum security to your computer. Combined with Auto-Sandboxing, your system is immune to fight against any threat.
You can also choose to allow or deny access to programs specifically.
Do I have to determine all programs to allow or deny access?
Not at all. The Comodo Firewall has full access to Comodo's safe-list comprising of over 2 million identified PC-friendly programs. Whenever an application or file from the list requests access to your computer, it will be instantly granted without questions.
What if a file unavailable in the safe-list requests access?
Comodo firewall alerts you whenever unidentified files request access with detailed information on the threat level and the type of file.